Published in July 2009, the picture book "Max" by the author
Tiziana Gentili-Nenning, is an exciting animal story for children aged 4-10 years.

It enables them to learn in a playful way about the feelings of joy and fear,
as well as the values of friendship, cohesion and helpfulness.

The brown hamster Max has lived a long time comfortably in a vault in the
basement of a big city building. As the first snowflakes of winter fall from
the sky, he goes into hibernation as usual. One afternoon, he wakes up suddenly
and finds to his dismay that the provisions he has collected for the winter
will never last until the spring. He boldly goes to the country in search of food.
There our little hero experiences many fears and worries, but also makes
Hsome real new friends. With their help he skilfully manages the adventures
of his journey.

A colourful picture book for reading out loud, also suitable as
a reading exercise for beginners.

Recommended for the family, kindergarten or nursery and primary school.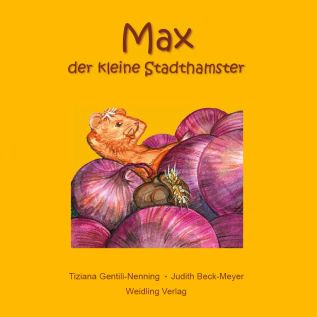 summary:
"children need books, because they
train fantasy, creativity
and language ability."

Idea and text by Tiziana Gentili-Nenning
10 illustrations by Judith Beck-Meyer
33 pages, hardback
size: 21 x 21 cm

ISBN 978-3-922095-29-3
publisher: Weidling Verlag, Stockach

price: 9,90 Euro

you can order the book
from the publisher or
directly from me

order